Injection well opposition grows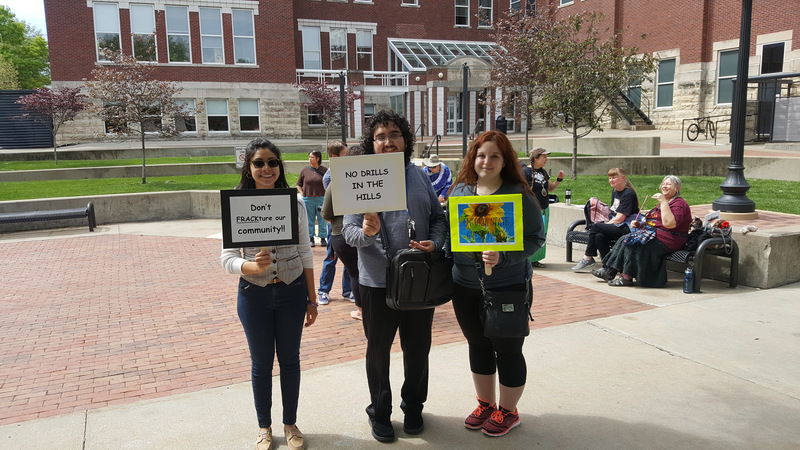 A small but mighty group of people gathered at Emporia State University on Tuesday to express their opposition to the injection well application filed with the Kansas Corporation Commission.
Quail Oil and Gas filed an application for an injection well in Morris County. The proposed wastewater injection well would be located in the southwest portion of Morris County near Burdick — 14 miles as the crow flies from the Tallgrass Prairie National Preserve.
The proposed well has drawn a particular amount of attention and opposition because of its location. ESU geology expert and distinguished professor James Aber said the well "directly overlies a buried basement uplift known as Nemaha Ridge, which is flanked on its eastern side by the Humboldt Fault zone with multiple, parallel faults trending generally north-northeast." He added that the Humboldt Zone has historically been seismically active.
Some of those in opposition to the injection well gathered in the Union Square on the campus of ESU Tuesday to educate others about the risks of injection wells and encourage others to express their concerns as well. Attendees carried signs proclaiming, "Once you frack you can't go back," "Don't FRACKture our community," and "No drills in the hills".
"I'm opposed because there is always a chance the toxins could get into people's drinking water," ESU student Jessica Parks said. "I think that is a very bad thing because I don't want that to effect the animals or the people in the Flint Hills."
"I'm opposed to the injection wells because if there is even a minimal chance it could affect our community with earthquakes, that is enough reason to be opposed," ESU student Emily Velazquez said. "Injection wells create more risk of harm than the benefits of having them."
The demonstration was organized by the ESU Greens and the Flint Hills Stewards. The Flint Hills Stewards is a community group which formed to promote responsible stewardship of resources in the Flint Hills and surrounding areas. The group was born when Quail Oil and Gas filed an application for an injection well in Morris County. Five concerned women — Cindy Hoedel, Elexa Dawson of Chase County, Karla Jo Grimmett of Morris County, Kathy Kelly of Kansas City and Chase County, and Regina Compernolle of Kansas City — filed protests with the Kansas Corporations Commission to express their objection to the proposed injection well.
Hoedel first voiced her opposition to the injection well by sending a postcard to the Kansas Corporation Commission. She was advised it was the first request for a hearing the KCC had ever received on a postcard. On Tuesday, she was handing out postcards for others to write to the KCC to share their views. More than 80 postcards were written and sent to the KCC following the event.
"The public comments period is open from now to the hearing date on June 15," Hoedel said. "All people have to do is send a card expressing their opposition to the injection well with their name and address for it to be counted."
Letters or postcards can be sent to the Kansas Corporation Commission, Conservation Division, 130 S. Market St. #2078, Wichita, KS 67202.
Grimmet encouraged others to educate themselves on the risk associated with injection wells. She said there are various risks to consider — increased earthquake activity and potential contamination of fresh water supplies.
Since filing protests with the KCC and requesting a hearing regarding the application, the Flint Hills Stewards came to the realization they would need legal counsel. Dawson explained the hearing process is complicated. She said community members can help in several ways.
"Immediately they can contact the Kansas Corporations Commission and express their concerns," Dawson said. "Additionally, they could donate to our legal fees. We did find after our pre-hearing phone call that we were going to need legal counsel — that the bureaucratic process was going to be overwhelming. We bit off more than we could chew — we didn't know what we were getting into."
Estimated legal fees are $10,000 and the group has formed the Flint Hills Stewards Legal Fund at www.gofundme.com/flinthills. So far the group has raised $6,200.
The public hearing regarding the injection well application is June 15 in Wichita.
http://www.emporiagazette.com/news/article_68125e8f-1f3f-50c5-b80c-d201add3edc1.html